At Makino School of Continuing and Non-Formal Education, Sam Higgingbottom Institute of Agriculture, Technology & Sciences (U.P., India), ASHA= Asian Sustainable Holistic Approach accepts about 12 trainees from villages of India, as well as of countries around, and teaches them sustainable agriculture with the support from Japan.

We expect the trainees to learn about the advancement of Asian rural lives, and hope that they will become the leaders who support the rural village people of their areas after the completion of the 10 month training here in MSCNFE

.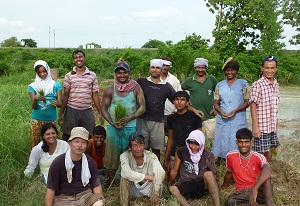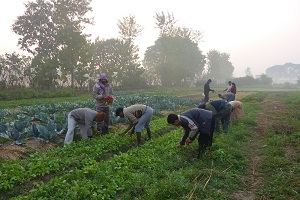 Based on the training motto, "Learning by Doing," we seek and encourage the most efficient, most practical methods of agriculture; to grow and use photosynthetic bacteria (PSB) and indigenous microorganisms (INO), to raise domestic animals, to use their green manure and excreta to make bokashi fertilizer, compost, liquid fertilizer, and to use them to grow safe, healthy vegetables… Thus, we are basing our practices on the theory of integrated farming. For small scale, poor farmers, we encourage and train small scale natural poultry farming, composed floor piggery, food processing techniques (so they can acquire income from their farm products), production and sales of farm products, management of organic farming cooperation, and pioneering new markets, such as fair trade with Japan, where they can sell their products. After completing such diverse curricula, the trainees will go back to each of their homelands, and will continue these activities to improve the lives of the farm villagers.
To support the aforementioned curricula and activities, we recruit visiting specialists on various fields of studies.